Ask Doc A Question
Fill out the form below to submit your question for Dr. Beebe to answer.
Leave a Reply
You must be logged in to post a comment.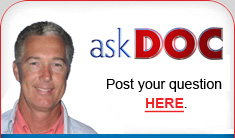 Recent Headlines from
TheHorse Interactive
After two days of high winds are driving rains, horse owners in Oklahoma are assessing their losses while bracing for yet another round of strong storms.
Two Canadian Standardbred horses have tested positive for equine herpesvirus-1 (EHV-1), according to the Ontario Racing Commission's (ORC) manager of veterinary services.
Dr. Erica McKenzie describes the common causes of exertional rhabdomyolysis in horses.
Are there any products available to give on a daily basis to horses that develop gas easily, or do you have any other suggestions on how to address the problem?
As of May 20, 283 premises and 747 equids in Kleberg County, Texas, have been tested. A total of 19 horses residing on six premises have tested positive for the disease.
British researchers found that trotting mildly lame horses quickly during lameness exams could mask clinical signs, while slowing down the trot could yield more accurate results.
More than 30 allegedly maltreated horses seized by Utah law enforcement authorities will be sold at auction to recover costs connected to their care.
A U.S. Senator and four members of the House of Representatives have introduced the Horseracing Integrity and Safety Act of 2013 to regulate/prohibit substances, methods, and treatments that can be used in racing.
Recovery following completion of three-day events is different than it was when cross-country was long format, says Kent Allen, DVM, head treating vet at the Rolex Three-Day Event.
Equine veterinarian Michael D. Erskine, DVM, Dipl. ABVP, has been named interim director of Virginia Tech's Marion duPont Scott Equine Medical Center.